Daily Challenge
Daily Challenge
26 March 2020 (by Louise Budan (LouiseB))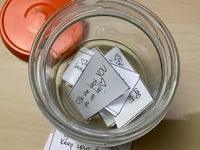 Today we would like you to create a jar of positivity. All you will need is a jar or a pot and some strips of paper. On each piece of paper write a positive quote or sentence and place them in the jar. The more you have the better. Everyday, you can read one together.
I will give you your first one ' be the reason someone smiles
Dzisiejsze wyzwanie to
sloj pozytywow
. Potrzebny do tego bedzie sloik i paski papieru. Na kazdym pasku papieru napisz jakis pozytywny cytat albo pozytywne zdanie i wloz je do sloika. Im wiecej tym lepiej. Codziennie mozesz przeczytacjeden z cala rodzina. Pierwsze zdanie dla ciebie 'Badz powodem, dla ktorego ktos sie usmiecha.'
Desafío diario, Hoy, nos gustaría que hagas un frasco de positividad. Para esto necesitas un frasco o jarra vacía y unas tiras de papel. En cada tira de papel, escribe una cita o frase positiva y colócala dentro de ello. Cuanto más hagas, mejor. Todos los días, puedes leerlos junto a tu familia. Te daré el primero "Se el motivo por la que alguien sonríe".
Desafio diário, Hoje, gostaríamos que você fizesse um pote de positividade. Para isso, você precisa de uma jarra ou pote vazia e algumas tiras de papel. Em cada tira de papel, escreva uma citação ou frase positiva e coloque nele. Quanto mais você faz, melhor. Todos os dias, você pode lê-los com sua família. Vou te dar o primeiro , 'Seja a razão do sorriso de alguém '
Sfida quotidiana, Oggi vorremmo che facessi un barattolo di positività. Per questo, hai bisogno di una brocca o un barttolo vuoto e alcune strisce di carta. Su ogni striscia di carta, scrivi una citazione o una frase positiva e mettilo dentro di quello . Più fai, meglio è. Ogni giorno, puoi leggerli con la tua famiglia. Ti do il primo, 'Sii la ragione per cui qualcuno sorride'