Story Time for KS2 with David Walliams
Story Time for KS2 with David Walliams
26 March 2020 (by Louise Budan (LouiseB))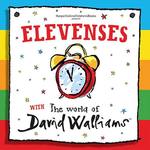 Story time for KS2-At 11am everyday, David Walliams will be releasing a new audio book for you to listen to. Grab a cup of tea or a biscuit and listen to one of his amazing stories. Enjoy!
Czas na sluchanie, KS2 codziennie o 11-ej.
David Walliams wydaje nowa audio ksiazke. Usiadz wygodnie z ciastkiem i herbatka i posluchej jednego j z jego opowiadan. Milego sluchania.
Hora de narración de cuento para los niños de KS2 a las 11am todos los días. David William estará lanzando un audiolibro para que puedas escuchar la narración. Agarra tu bebida favorita o el aperitivo que prefieras y siéntate a escuchar está interesantes historias de cuentos. Disfruta mucho!
Te dejo el link para que puedes acceder, https://www.worldofdavidwalliams.com/elevenses/
Tempo de contar histórias para as crianças do KS2 às 11 da manhã todos os dias. David William estará lançando um audiolivro para que você possa ouvir a narração. Pegue sua bebida ou Bolinhos favorito, sente-se e ouça essas histórias interessantes. Aprecie muito!
Deixo o link para você entrar, https://www.worldofdavidwalliams.com/elevenses/
Story time per KS2 ogni giorno alle 11am. David William rilascerà un audiolibro in modo da poter ascoltare la narrazione. Prendi la tua bevanda o biscotto preferito e rilassati e ascolta queste storie interessanti. Buon divertimento!
Lascio il link per consentirti di entrare, https://www.worldofdavidwalliams.com/elevenses/